Furnishings: Barstools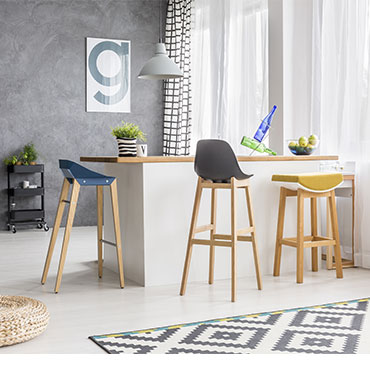 The next time you have a get-together, instead of inviting friends over to sit at mismatched or worn down furniture offer them a seat that is as comfortable as it looks with new bar stools. Whether you're upgrading your present home bar or are building a new one from scratch, there are bar chairs and stools that guests will look forward to settling into for hours on end. Replacing your card table and chairs set with a permanent installation, featuring a comfortable bar, can create an inviting space that will be the envy of the neighborhood.
A decorative wine rack with a few bar chairs around it is a perfect start to a home bar, but when your home becomes the go-to place to meet, you'll need to start thinking about more seating. Adding a pub set with matching table and chairs can give guests more room to spread out, but you will want extra bar stools more than any other piece of furniture. Bar stools can be stored out of sight when not in use and can effortlessly slide up to the bar to accommodate more guests.
Bar chairs and stools are also just the right height for working at the kitchen countertop or a high island; be sure to have one or two there to enjoy a morning coffee and breakfast or a quick snack on an unusually busy day.