About Uttermost Accessories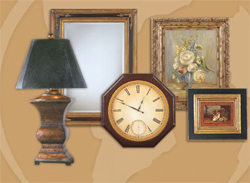 After two generations of furniture manufacturing, Bob and Belle Cooper founded The Uttermost Company in 1975, and it is still 100% owned by the Cooper family. Bob and Belle continue to be involved in the business, but are not active in day-to-day activities. Mac Cooper, President/CEO, Taz Cooper, Exec VP/Sales Manager, and a strong management team operate the business today.

Uttermost has enjoyed steady growth for the past 32 years, and now has approximately 290 employees working in its Rocky Mount, Virginia factories totaling 600,000 square feet. Uttermost also has a factory in China which covers an entire city block, and a sales force of 120 representatives throughout North and South America, Europe, Asia, etc. In May '06, Uttermost will be fully operational out of its state-of-the-art West Coast distribution center. This West Coast facility has been added to increase distribution capacity, provide faster shipping to West Coast Retailers, and reduce freight costs to these Retailers.

Uttermost is proud to support many of the most prestigious home-furnishing Retailers in the world with our products and service. The growth of Uttermost is primarily due to our commitment to three things: superior service to Retailers, maximizing the value of the products we make through better design and sharp pricing, and treating our employees, sales representatives, and designers as partners in business. This commitment stems from our stated mission and culture.

Uttermost manufactures mirrors, art, metal wall art, lamps, accessories, clocks and lighting fixtures.
---
---